Here at CounterSpace Garage (CSG), we love to work with awesome companies that constantly provide some amazingly high quality, high reliability, and high performing products. Jackson Racing is a household name for those three goals we seek and obviously why we love to talk about them so often.
Jackson Racing Description:
The championship-winning performance experts at Jackson Racing are proud to launch their new line of cooling products, starting with the release of the Dual Radiator/Oil Cooler for the Toyota 86 / Scion FR-S / Subaru BRZ.
An engine oil cooler is a must have for high performance vehicles. The FA20 engine in the FR-S/BRZ is a finely tuned high compression engine and engine oil temperatures can spike to dangerous levels even on stock cars. With all types of forced induction being added to the FR-S/BRZ, the need for universal FA20 oil cooling is needed.
The Jackson Racing Dual Radiator/Oil Cooler was developed in-house in conjunction with manufacturing partner CSF Radiators to be the ultimate solution for FR-S/BRZ Street and Track enthusiasts. With well over a year of development, Jackson Racing is proud to bring a true "drop in" all-aluminum radiator with built in oil cooler for the FR-S/BRZ platform. No trimming or cutting needed and installs with all OEM components. The Jackson Racing Dual Radiator/Oil Cooler includes all necessary components for engine oil connections for a true plug and play solution.
The radiator features a 31mm CSF B-Tube core, with over a 100% increase in cooling surface area. The CSF B-Tube technology boosts surface area by 15% vs standard oval tube cores. The integrated liquid to oil cooler features 10AN fittings for proper flow to and from the engine.
The entire system has been put to the test on the Jackson Racing FR-S test mule for thousands of miles on the street and track, in all types of conditions. We are proud to say this system works flawlessly, keeping oil temperatures within a 30ºF temperature delta, thus maintaining consistent engine performance. Thanks to the large liquid to oil cooler, engine oil is kept at the proper operating temperatures in all environments, whether it is cold startup or a hot day at the autocross.
Key Points:
• Increased Cooling Capacity
• Integrated Liquid to Oil Cooler
• True Plug and Play Solution
• Quicker Cold Start Oil Warm Up
• Consistent Oil Temperatures
• Heavily Tested
SYSTEM FEATURES
• 31mm CSF Racing Radiator Core
- 100% increase in cooling surface area vs OEM
- CSF Exclusive B-Tube Technology
- 15% more surface area with CSF B-Tube vs standard oval tube
- Multi-louvered fin with more surface area contact between the tubes & fins for better heat transfer efficiency
- Factory tested
• Integrated Liquid to Oil Cooler
- Maintains 30ºF temperature delta with coolant
- Thermostatically controlled via cooling system
- Brings proper oil cooling for Street and Track enthusiasts
• Jackson Racing Oil Cooler Adapter
- Engine Oil Cooler Adapter with -10AN Fittings
- Includes Black Anodized Jackson Racing Adapter Spacer
• -10AN Oil Cooler Lines
- Pre-Assembled at Jackson Racing
- Aeroquip OE Quality Oil Hose
• Hand Polished For Mirror Finish
• Jackson Racing 1.4bar High Pressure Cap Included
• Industry Leading Customer Service & Support
- 35+ Years of Proven Performance
- Installation Manual
FAQ
Q: Do I need to add more engine oil with the oil cooler kit?
A: Yes, an additional 0.5 quart of engine oil is required when installing the Jackson Racing Dual Radiator/Oil Cooler.
With that said, CSG will provide more updates on a complete description, pricing, and photos when they get released.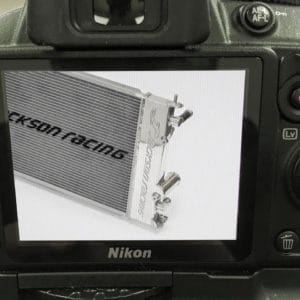 Here's a photo of the Miata radiator/oil cooler unit also exclusive to Jackson Racing.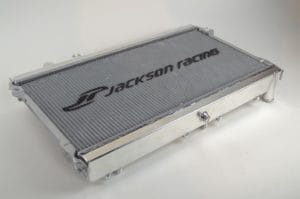 Please do not hesitate to contact us for more information!