CounterSpace Garage is the official dealer for TWS Forged wheels in North America.  We had our first set of wheels brought in.  These wheels were shipped via air freight and picked up directly from the airport.  That's some epic shipping service right there.
We had a chance to do some initial inspection on the wheels and found some neat engineering touches that are only found on the best wheels in the world.  So what does that mean?  In fact, the reason behind TWS's greatness lies in the idea of developing, building, testing, manufacturing every single aspect of their wheels in their own facility.  This allows them to control every possible aspect of their wheel design and continuously develop them from their decades of motorsports experience.
Let's check out the standard boxed wheel itself.  Oh look, from TWS to CounterSpace Garage.  Check out that box weight!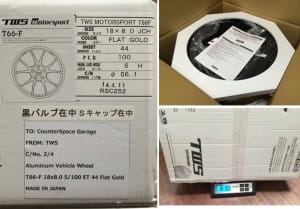 What's inside the package?


A clear observation of the center bolt pattern and pad shows some very impressive design intent.  The design allows for a very strong mounting section  showing a very rigid wheel's foundation and how it interacts with the hub.  Notice the fine details at the bolting location.


The dimples that shed weight while maintaining rigidity are unique to high-end wheels.  These dimples allow for maximum weight savings while maintaining structural integrity.  Notice the bead knurling?  That is to reduce tire slippage while the power is being put down, resulting in better grip performance.  In fact, GM had to dig into their motorsports development team to introduce this sort of knurling to their Camaro Z28 wheels to reduce the amount of bead slip due to excessive gripping forces produced by the tire.  This helps produce better acceleration, cornering, and braking characteristics overall.  Can you name the other people who have the same technology in their wheels?


Last but not least.  What about the weight of an 18x8.0 wheel?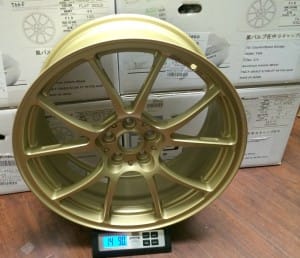 That's right folks, 14lbs and 9.0oz.  That's quite light especially for an 18" wheel.  The "Flat Gold" color isn't quite as flat as it seems.  It's a shiny, satin metallic looking color that's not too flashy like 24k gold rings.  What do you think?  It looks mighty impressive to us!
Let's not forget about those center caps!


Well there you have it.  Some insight to a very exclusive wheel brought to you by CounterSpace Garage.  Stay tuned for a custom offset dedicated to true driving enthusiasts seeking the very most out of their cars' performance!
Check out our available range of TWS Motorsport Forged wheels for Toyota 86 / Subaru BRZ, Toyota Supra and many other cars.