CSG Spec - TEIN Flex A coilovers - CSG FLA - Subaru BRZ / Scion FR-S / Toyota 86
TEIN Flex A - CSG Spec coil-overs

2013-2016 Subaru BRZ (ZC6) / Scion FR-S (ZN6)
2017+ Subaru BRZ (ZC6) / Toyota GT86 (ZN6)


Please contact us for additional information - info@counterspacegarage.com.
March 2021 batch is sold out. July 2021 Batch is open. Orders will be processed/shipped in the order they are received.
Details
Details
Please contact us for availability - info@counterspacegarage.com.
CounterSpace Garage (CSG) has developed a valving spec with the support of TEIN engineers to utilize the special features of the Flex A coil-overs and refine it further for elevated spirited driving with no compromise to daily comfort. The valving range has been refined significantly to utilize the maximum usable damping range while eliminating the "unusable" range that many systems have.
The signed off CSG Spec has been proven through years of testing on various track surfaces, vehicle configurations, tire types, and most importantly, various road conditions in various environments.
A major difference between the
CSG Spec line
compared to any other suspension system available, is the refinement over the early and late model Subaru BRZ, Scion FR-S, and Toyota 86. As the final proving test, a completely stock 2017 Subaru BRZ had been selected for the test vehicle, which completed a 6000+ mile trip from California to Road Atlanta and back driving through the high desert heat in the Mohave through hailing conditions in the high plains, snow conditions in the Rocky Mountains and Pikes Peak climb. Road Atlanta features some elevation changes, low speed / high speed corners, and large berms that test the robustness and refinement of the CSG Spec. The 1.5 week sample test had proven to be successful with no degradation of components, which is a significant issue for suspension systems that is used for major track use.
CSG Spec has you covered. As a Flex A, systems are completely rebuildable. As a CSG Spec, you'll be getting the 1-way coilover kit that covers all your basis.
Kit Includes:
- Springs: 6kg/mm Front | 6kg/mm Rear
- Damper Kit Front & Rear
- Front camber plate set
- Rear pillowball top hat set
- Instruction manual - includes recommended CSG / TEIN settings
Disclaimer: Always check all bolts and ensure all components are tighten down prior to installation. CSG is not responsible for installation errors, misuse, and mishandling of the product. This product is intended use for and application on public roads and tarmac surfaces.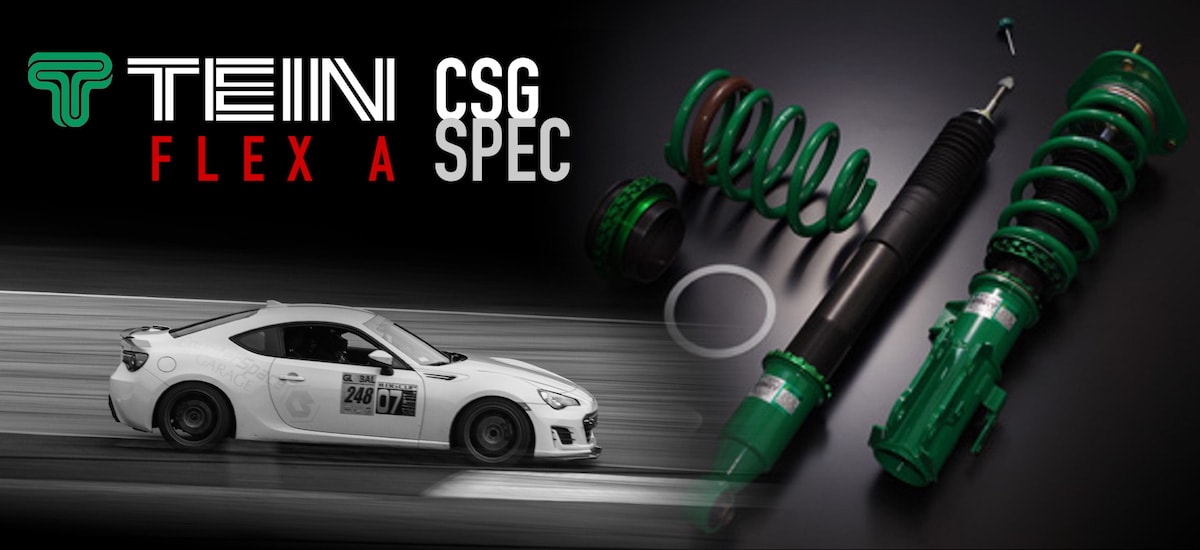 Additional Info
Additional Info
| | |
| --- | --- |
| Car Model | Scion FR-S, Subaru BRZ, Toyota GT86, Toyota 86 |
| Part Brand | CSG Spec |
| Weight | 56 |
| MSRP | 1440 |